Lovett Dental Beaumont is your multidisciplinary dental practice that provides six forms of specialty care. One of which is dental bonding. This specialty service may be the solution you need for a perfect smile. Patients come to us from around the Houston area for pediatric dentistry, orthodontics, periodontics, endodontics, and oral surgery. Our services included dental veneers, implant-supported dentures, cosmetic dentistry, and children's dentistry. We are here for you during a dental emergency with professional, fast service, and flexible hours.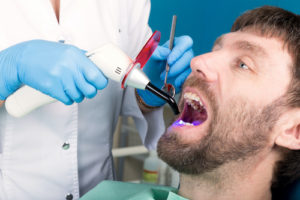 Dentists usually use bonding to fix chipped teeth. We also provide dental bonding for patients who are unhappy with the appearance of their smile but do not want the commitment of more permanent procedures. Dental bonding is considered faster and more cost-effective than other cosmetic dental options.
Frequently Asked Questions About Dental Bonding
How long does dental bonding last? Officially dental bonding will last four to ten years. However, many people find that their dental bonding lasts much longer than that with proper care. Dental bonding is a long term dental solution, but in some cases, it will need to be replaced.
What is the most common reason for dental bonding? Generally, dental bonding is done to improve the appearance of front teeth for cosmetic purposes. Dental bonding can close a small gap, make teeth appear more even, and repair permanent staining and chip in the teeth and enamel.
What do I need to do to prepare for front teeth bonding? You do not need to do anything out of the usual to prepare for the bonding. The procedure is safe, painless, and there is little to no downtime or prep-time on the patient's part.
Does the procedure hurt? No, in most cases, no pain prevention measures are needed because it is considered a fast and painless procedure. The exception to this is if tooth decay is causing pain to the patient, but in many cases, dental bonding will not be applied until the cavities are dealt with.
How Long Does a Tooth Bonding Procedure Take?
Many people put off dental care because they worry about the time it may take for improvement or are nervous about prolonged time in the dental chair. Dental bonding, front teeth bonding in particular, is actually a relatively fast outpatient procedure that can have you grinning confidently in just one appointment. You can generally expect 30-60 minutes of dental work per tooth for a bonding appointment. Aftercare includes avoiding coffee and tea the first week and avoiding hard candy with the bonded teeth. You will learn more about how to take care of your dental bonds at your appointment.
Dental care is not just about looking great. Did you know that cavities and tooth decay actually travel through the bloodstream and can cause heart problems? Dental care and overall health care are connected; delaying a needed dental cleaning or treatment may negatively affect your whole body. Here at Lovett Dental Beaumont, we provide many dental services to improve dental health, reduce mouth pain, and improve our patients' smiles.
Reach Out to Lovett Dental Beaumont Today
If you or someone you know needs dental bonding services, or if you want to learn more about dental bonding in general, contact us at Lovett Dental Beaumont to schedule a consultation or discuss our services. We provide cleanings, specialized, and general dental care for the whole family. No matter what your needs are, our team of experienced and compassionate dental experts can help. We offer a wide range of services, such as:
Dental braces
Dental veneers
Bonding
Oral surgery
Call us today at 409-924-8100 to discuss your dental needs and schedule a consultation.