Dentistry is a dynamic field with many specializations. The American Dental Association (ADA) recognizes nine types of dental specialties, five of which we are proud to offer at Lovett Dental Beaumont. Our team of dentists and hygienists strives to provide a wide range of treatment options to patients of all ages. Our dentists use the latest technology to continually improve our treatment and expand our offerings from filling cavities to root canals. Not only do we provide some of the most thorough general dental services, but our specialty dental services cover a wide range of restorative procedures and orthodontic services in Houston.
Many people have unique requirements and pressing needs that require the help of specialist services. Finding a specialty dentist near you can be tough, especially when you prefer to have all of your dental care tended to by one professional you know and trust.
Thankfully, at Lovett Dental Beaumont, rest assured that every type of general dentistry service you receive is cared for with care, compassion, and a smile from the welcoming staff.
Learn About Our Specialty Dental Services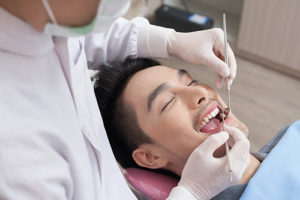 Quality dental care is multi-disciplinary and highly resourceful. By integrating various perspectives into our approach, we can provide you with the most effective and comfortable dental solutions.
We want you to receive painless treatment, fast recovery, and lasting results. By drawing from six major dental specialties, you receive a multifaceted, personalized treatment plan that ensures optimal oral health and builds confidence.
When you work with a specialty dentist, you don't have to worry whether you're really getting the right treatment for your needs. Rather than having to find another office for a second opinion, you can consult with any of our specialty dentists to ensure that you are receiving the right care for your teeth. Our specialized services include cover areas like oral surgery and sedation dentistry for those who desire it. Some other specialty dental services we provide include:
Treatment for impacted teeth
Tooth extraction
Orthodontics such as clear aligner trays and dental braces
Periodontics
Ridge augmentation
Solutions for teeth grinding
We fold these specialty services into our general dental practices, notifying you when they may be an option. Similarly, our pediatric dentists do the same, monitoring the development of your child or adolescent's oral health and making the appropriate suggestions.
What Dental Specialist Services Do You Need?
To choose the right type of dental specialty service for you, one of our dentists will perform a primary consultation. When you first visit us at Lovett Dental Beaumont, we'll perform a thorough assessment that includes a physical exam and X-rays. By getting a comprehensive look at your teeth and dental structure, we can provide recommendations for the type of dental service you need.
When we know exactly what you need out of a dental procedure, we can schedule an appointment with one of our specialists. Our expert team includes children's dentists, orthodontists, maxillofacial surgeons, and periodontists. We also offer various cosmetic and restorative dental procedures such as porcelain dental veneers, same-day tooth replacement, and teeth whitening services.
From dental cleaning and dental exams to specialty care, we can provide the care you need. At Lovett Dental, we make sure that our specialty dental services in Beaumont, Texas, are always available.
The Specialist Services Lovett Dental Beaumont Offers
For specialty dental services, Lovett Dental Beaumont has you covered. We provide flexible, affordable services as well as emergency dental care to children and adults. To ensure that our treatments are easily accessible, we accept all major dental insurance coverage and Medicaid, Medicare, and CHIP. Some of the most common specialty dental services our patients receive are:
We also offer gum disease treatments, root canal surgeries, and tooth extractions. Transitioning from another dentist is no problem, either. We welcome you if you have extensive dental history to visit us and discuss what we can do for you. Integrating care with the expertise to provide high-quality treatment and comfort makes Lovett Dental Beaumont a wonderful choice for every member of your family.
Contact Lovett Dental Beaumont Today to Learn More
To learn more about us or schedule an appointment, contact Lovett Dental in Beaumont, Texas, today at 409-924-8100.