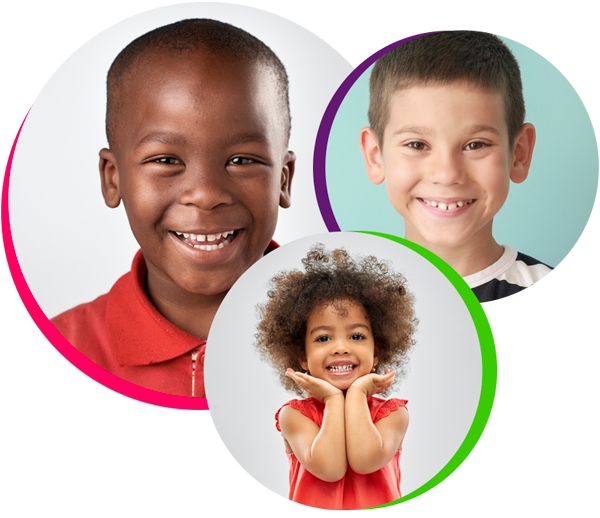 At Our Children's Dentist, we want to help your little one develop good dental health habits early on. Our pediatric dentistry specialists and our friendly team of our family dental practice love each little smile that comes through our door, and it's our goal to create a fun, educational, and comforting experience that positively affects the way your child feels about visiting the dentist.
It is always our goal to create healthy, happy smiles for each and every patient we see. We believe that a healthy mouth leads to a healthy body and a healthy life!
Pediatric dentists are specialists in treating the unique needs of children. Our pediatric dental specialists have completed several years of specialty training beyond dental school. They limit their practice to treating the oral health needs of infants and children through adolescence, including those with special health needs.
Children have special dental needs from birth through their late teen years. These special needs require the expert care of a dentist specializing in children's oral health and development. Pediatric dentistry in Beaumont, Texas, at Lovett Dental provides this specialized treatment, ensuring your child's best chance for an attractive, confident smile.
Choose Pediatric Dentistry with a Personal Touch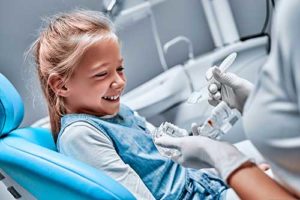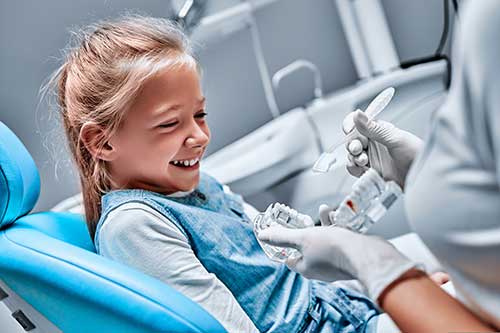 Finding the right dentist for your child is critical to his or her health. At Lovett Dental Beaumont, we commit to giving your child the best start possible by providing monitoring and guidance for his or her dental health. We offer dental care for children in comfortable, modern, kid-friendly settings. Our specialists have completed residencies involving at least two years of training in pediatric dentistry beyond the standard dental school curriculum. Our pediatric team can address the various dental needs growing kids have at each stage of development. We can not only help teach your child healthy oral care habits, but we also offer the following services:
No matter your family's needs, our team can help. We make the experience of coming to the dentist enjoyable from the first, laying the foundation for good oral health into adulthood.
Pediatric Dentistry Helps Your Child Prevent Cavities
The American Dental Association recommends that parents schedule their child's first dental visit at the first birthday or when their first tooth emerges. You can help make the first visit positive and fun by telling the child about it ahead of time, assuring them that the dental team will answer any questions, and staying with him or her throughout the dental exam. Establishing a good rapport with our pediatric dentist and becoming familiar with our office environment reduces dental anxiety and discomfort.
Our pediatric team recommends establishing a "dental home" by the child's first birthday. Good oral hygiene will help your child have pleasant checkups and avoid cavities. Here are some tips to prevent tooth decay:
Wipe plaque from infants' teeth with a wet cloth

Avoid giving babies milk or juice at bedtime

Ensure older children brush twice daily

Limit sugary snacks in older children

Visit the dentist twice a year
While our adult, permanent teeth naturally replace our baby teeth, it's still vital to care for baby teeth. Issues can arise with baby teeth left unattended, affecting how permanent teeth come in and a child's overall health.
The Importance of Regular Pediatric Dentistry Visits
Finding a good dentist is critical to maintaining children's dental health. We recommend bringing your child to see your favorite general dentist at Lovett Dental Beaumont every six months. Regular dental visits will allow us to monitor your child's growth and development and guide his or her oral hygiene habits. If your child develops a dental issue, we can intervene early before small problems get bigger. Our pediatric dentists may also recommend preventive treatments to protect your child's teeth from decay. While our pediatric dentists have the skills to help with oral health issues affecting children, our team also delivers general services like:
Your child's dentist may recommend a sealant treatment if your child has a tooth that is especially vulnerable to decay. In four out of five children who have cavities, decay occurs on the chewing surfaces of the molars and premolars. A sealant can protect these surfaces from food particles, acid, and plaque.
Although fluoride exists in food and tap water, some people do not get enough in their diet to make their teeth strong and healthy. Your child's dentist may provide a fluoride treatment to strengthen his or her teeth from the outside. Fluoride treatments come in gel or liquid rinse form. Ask your Lovett dentist whether a fluoride treatment could help keep your child's smile strong and healthy.
Personalized Pediatric Dentistry at Lovett Dental Beaumont
Our pediatric dentists have years of experience in treating children of all ages. From babies to teens, we will be there to support your child's dental needs at every stage of development. Our flexible hours allow you to plan your child's visit around school, rehearsals, games, and your busy schedule. We are open early, late, and on Saturdays. Contact Lovett Dental Beaumont for modern, friendly, competent pediatric dentistry at 409-924-8100 to schedule your child's appointment today.