Many people experience anxiety when they think about getting dental care. Sedation dentistry provides a way for you to get the dental treatment without pain and stress. When you search for a Beaumont sedation dentist, Lovett Dental Beaumont is your place to go. Our experienced team of sedation dentists can make all types of dental procedures as stress- and pain-free as possible.
Types of Dental Services Offered by Lovett Dental Beaumont
Lovett Dental Beaumont is a multidisciplinary dental practice that offers a full range of dental services. Some of the services that we offer include the following:
Implant-supported dentures
Braces and orthodontics
How Sedation Dentistry Can Help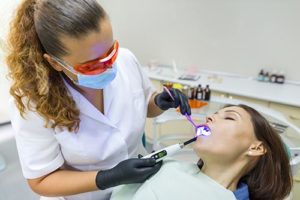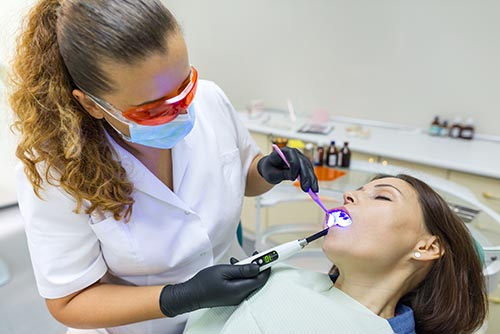 Sedation dentistry allows people to relax when they get general dentistry services. Many people experience fear when they think about getting dental care. This leads some people to avoid going to the dentist even when they have toothaches and other problems. Sedation dentistry helps to reduce the anxiety that some people experience when they receive dental treatment. Sedation can be used for everything from simple tooth cleanings to more invasive procedures.
Dentists who practice sedation dentistry administer medications to help people relax. The amount of medication that they might administer will depend on your treatment and the level of your anxiety. Sedation dentistry does not always involve general anesthesia. Instead, most people remain awake during their dental procedures. The sedatives can induce minimal, moderate, or deep sedation. Your dentist at Lovett Dental might administer sedation during specialty dental services using an inhalant such as nitrous oxide, an oral medication, or intravenous medication.
Depending on the level of sedation, you might remain awake and relaxed in the dental chair during your procedure with minimal sedation. If you receive moderate sedation, you might remain awake but remember little of the procedure. If you undergo deep sedation, you will likely be on the edge of consciousness. Finally, with general anesthesia, you will be completely unconscious during your procedure. The experienced dentists and specialists at Lovett Dental can discuss sedation dentistry with you and recommend an appropriate level of sedation to meet your needs.
Reasons to Choose Sedation Dentistry
Anxiety about dental care is not the only reason why people opt for sedation dentistry. Some of the reasons that people choose dental sedation include the following:
Phobia about dental work
Pain caused by sensitized nerves
Anxiety disorder
Traumatic experiences in the past from dental procedures
Strong gag reflex
Having a small mouth
Sedation dentistry can be a good choice for people who want to have a less stressful experience when they go to the dentist. Lovett Dental can explain the options for sedation dentistry and help you make the right choice for you.
What to Expect From Sedation Dentistry
When you come to Lovett Dental, our Houston sedation team will review your medical and dental records before we recommend the type of sedation that might work the best for you. If we recommend minimal sedation, we will give you nitrous oxide before your procedure.
If we recommend oral sedation, you will take a pill on the day of your procedure. We may recommend IV sedation if you will have an invasive procedure or have overwhelming anxiety. We will administer IV fluids to keep you under sedation during your procedure. During your procedure, we might use monitors to track your blood pressure and pulse for IV sedation. If you have minimal sedation, monitors may not even be necessary.
You should arrange to have someone drive you home from Lovett Dental after your procedure and take the day off from work. You should be able to return to work the following day.
Why Choose Lovett Dental Beaumont for Sedation Dentistry?
Lovett Dental is a family dentistry practice that offers a broad range of dental services and multiple specialties. Our experienced dental team can handle all types of dental procedures. We do everything that we can to make people as comfortable as possible while they receive dental care.
You should not let fear or anxiety keep you from seeing a dentist. Contact Lovett Dental Beaumont today to schedule an appointment with a Beaumont sedation dentist by calling us at 409-924-8100.