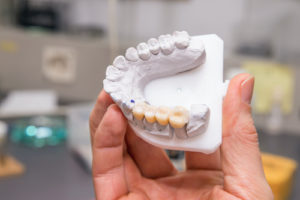 Dental crowns are devices that are placed on top of a non-functioning tooth. Crowns are designed to cover the tooth, preventing it from further damage and assist with chewing. A dental crown is designed to restore the function, size, and shape of a tooth that might have been damaged or decayed. There are numerous reasons why someone might need a dental crown. For example, there might be a cavity that cannot be filled. In other cases, the tooth might be cracked, weak, or worn down. Millions of dental crowns are made every year, making it one of the most common treatment options in the dental field.
Materials for Dental Crowns
Perhaps the most frequently asked questions about dental crowns revolve around what they will look like. So having an understanding of the materials used to make crowns can give you a sense of their durability, look, and feel. Similar to other dental services, multiple materials are used to make crowns. Some of the most common materials that are used to make dental crowns include:
Porcelain
Metallic alloy
Ceramic
Composite resin
Usually, when crowns are made, they are designed to blend in with the surrounding teeth. All of the material used to create a crown can be customized to match the color of an individual's current teeth. Typically, dentists attempt to match the color of the crown to the surrounding teeth. This is especially important with teeth at the front of the mouth. Usually your dentist will show you some samples of materials so that together you can decide on one that most closely matches your teeth.
A client's needs will usually determine the material the crown is made of. Obviously, the dentist wants your dental crown to feel and function as naturally as possible. Therefore, there are numerous factors that your dentist will consider before the treatment. A few examples include:
The location and functionality of the tooth
The overall health and position of the gums
Tooth decay
The condition of nearby teeth
All of these factors influence what kind of material the crown is made from. Once a choice is made, your dentist will place the crown on top of the faulty tooth. Another specialty dental service we provide at Lovett Dental Beaumont is the installation of dental bridges.
What Are the Types of Dental Bridges?
A dental bridge is used to replace missing teeth. Missing teeth can impact your bite, smile, and even shift your teeth out of position. We will then hold your new porcelain teeth in place by attaching an abutment to the surrounding teeth. Similar to crowns, we have multiple options for dental bridges as well. Some of the dental bridges that we use include:
Traditional bridges
Cantilever bridges
Maryland bridges
Implant-supported bridge
Getting a dental bridge can be a slightly more involved process and procedure (depending on the kind used) than a crown. However, it is designed to address different issues than a crown. When it comes to crowns and bridges, we provide you with access to a variety of options. Count on our team to help you.
Call Lovett Dental Beaumont Today
If you are looking for help with dental crowns and bridges, Lovett Dental Beaumont is the answer. Our experienced and compassionate dentists and hygienists take the time to listen to your concerns and help you form a plan to help us meet your goals and financial requirements. Then, we look at the treatment services that we provide and tailor them to meet your individual needs. We also have emergency dentists on staff, making us Beaumont's one-stop-shop for all your dental health needs. Call us today at 409-924-8100 to make an appointment!